The i-sopod is an impenetrable silent sanctuary that is almost womb like, where anxieties and stresses are able to simply drift away. This is an environment like no other and provides your body with complete weightlessness, removing all external stimuli from the body and mind, facilitating a true physical and mental relaxation available nowhere else on earth.
The i-sopod is a superior product packed full of innovative features and technologies, once purchased you can be confident that you have made a wise investment.
Revolutionary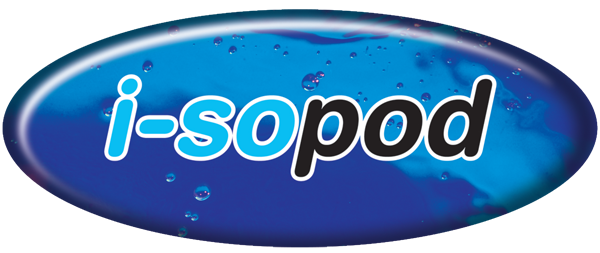 Designed to take float tanks into the 21st Century, i-sopod is the original float pod, a product of years of planning and testing. It's constructed from the finest quality GRP double-skinned mouldings and hand finished and insulated.
The most visually striking of all float pods, i-sopod is unrivalled for the size of its internal floating area. Its easy to use, reliable and able to handle a high volume of users with very little down time for maintenance.
Precision robotic cutting in the mould-making process and using the finest components and electronics guarantee consistent quality and a more robust product.
Energy
i-sopod has a double skin with a large air cavity between the interior and exterior sections. The three main parts (door, top and base) are hermetically sealed which maximises sound and thermal insulation, reducing operation costs.
Safety
We only heat the solution when it's being filtered. i-sopod is effectively switched off when it's being used. An extremely low voltage of 12 volts is used for internal lighting, the attendant call button and the electronics that manage the computer processes, making i-sopod exceptionally safe.
Lighting
i-sopod is lit with the latest LED spa lamps. Each lamp has a life expectancy of around 80,000 hours. Colour therapy settings range from subtle electric-blue fades to slow scrolls through a series of vibrant colours, which can be held at the colour of your choice.

Colour
i-sopod is hand finished to our customers' specifications and can be colour-coded to blend in with existing livery. We can also include your company logo.
Audio
A built-in MP3 player using the latest transducer technology produces the highest fidelity stereo sound. Additional music can be supplied by the SD card reader giving the option for timed music playback. There's also Bluetooth and a 3.5 mm AUX jack available for connectivity to all devices.
Comfort
i-sopod enjoys one of the largest pod interiors on the market, which makes the in-tank experience much more comfortable. i-sopod is fully ventilated by natural convection and is guaranteed draught free. Clever design allows the customer to have the door partially open or closed.
Filtration
A powerful pump and the latest filtration technology are included. Other float tanks filter at around 30 microns. i-sopod filters to one micron, which is an incredible 100 times smaller than a human hair.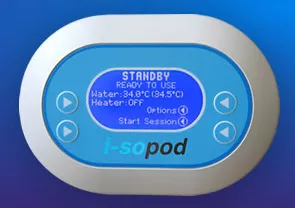 Programmable
i-sopod features a sophisticated digital control unit. Session length, music timing, disinfection and cleaning are all operated through an intuitive LCD interface.
Full operation of the tank can be monitored and controlled by the remote control system which, ideally, should be kept in the reception area.
Unique
The saline solution in i-sopod is heated outside the tank. This eliminates the electro-magnetic fields normally produced by embedded heaters. Our customers have found this improves the overall quality of their float experience.
The filter station, pump and heater system (the "engine") are all external, so installation is quicker and less labour-intensive than other designs. Servicing and repairs are also uncomplicated and cost less.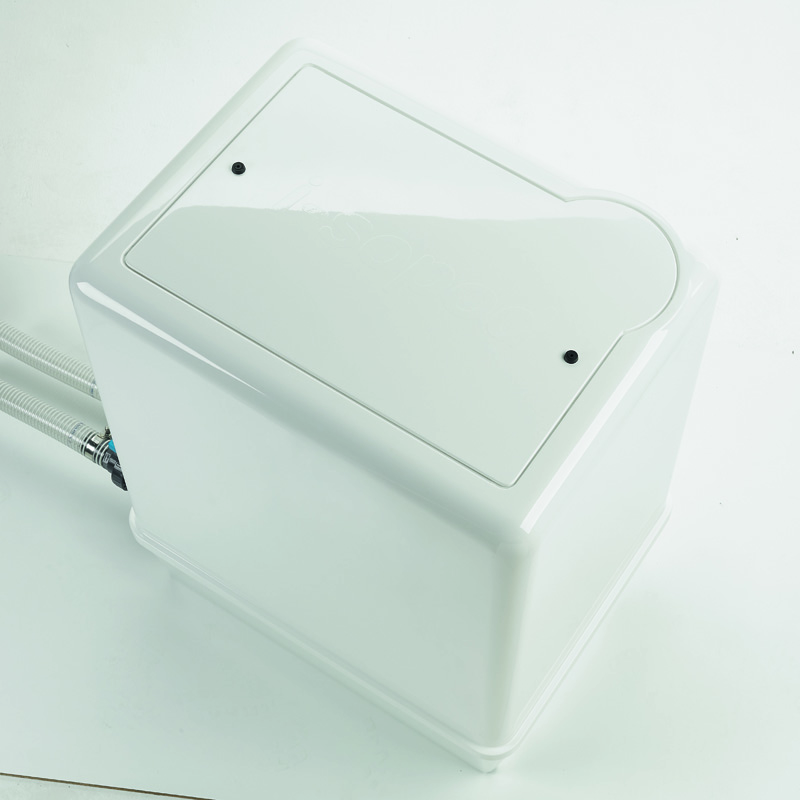 Plant room
We've taken the pump, filter, heater and electronics out of i-sopod (we call these "the engine"). The engine can be kept in a separate plant room to the pod.
This has a number of advantages over integrated float systems like user satisfaction, cost savings, less soundproofing, safety, and cleanliness.
Your customer exits the float tank in a peaceful, relaxing state as they're not listening to the pump running during the filtration cycle, just feet away, while they're showering and dressing.
Everything you need
i-sopod is designed and made using the latest European and American safety guidelines. Fully installed, it comes with full manufacturer's warranties: 2 years on parts, 10 years on the body and 3 years on the surface.
More Information

| | |
| --- | --- |
| Manufacturer | ZOI |